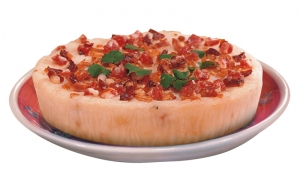 Product(s) Used for this Recipe
Carrot Cake

Ingredients
Swanson Clear Chicken Broth 375ml
Wax Meat (Soaked and Diced) 35gm
Dried Shrimp (Soaked and Diced) 20gm
Tapioca Flour 25gm
Shallot (Sliced) 1 clove
White Sesame (Roasted) seeds
Radish (Shredded) 900gm
Chinese Sausage (Soaked and Diced) 35gm
Rice Flour 200gm
Corn Flour 50gm
Spring Onions

Cooking Detail

| | | |
| --- | --- | --- |
| Meal Type | : | Main Meal |
| Cook Method | : | Stovetop |
| Preparation Time | : | 80 minutes |

Methods
1. Heat up 2 tablespoon of oil, saute diced shrimps, chinese sausages and wax meat.
2. Heat up the pan, saute the shallots and shredded radish. Pour in 150ml of Swanson Clear Chicken Broth. Season with a pinch of salt and pepper, stir fry till the radish is cooked. Switch off the fire.
3. Mix and sieve rice flour, tapioca flour and corn flour together. Add in the rest of the Swanson Clear Chicken Broth into the mixture, add in radish and the other ingredients. Mix fast and well.
4. Line the baking pan with oil, pour in the batter, steam in strong heat for 60-75 minutes. Lastly garnish with spring onions and roasted sesame seeds.