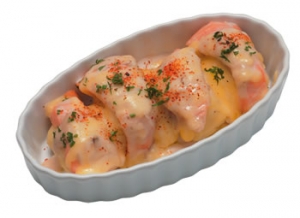 Product(s) Used for this Recipe
Baked Salmon Sushi with Cream of Mushroom

Ingredients
1 Can Campbell's Cream of Mushroom
50ml Water/Fresh Milk
550g Potatoes
15g Unsalted Butter
1 Tablespoon Cold Milk
¼ Teaspoon Ground Black Pepper
12 Slices of Salmon Sashimi
Handful of Shredded Cheese
Some Chopped Parsley
Dash of Japanese Chili Powder (Shichimi)

Cooking Detail

| | | |
| --- | --- | --- |
| Cook Method | : | Oven |
| Preparation Time | : | 30 minutes |
| Serving | : | 4 |

Methods
1) Put potatoes into a saucepan together with ½ teaspoon salt and cover it with water 1" above potatoes. Bring to boil, reduce heat and simmer for 20 minutes or until soften.

2) Put peeled hot potatoes into a big bowl. Add butter, cold milk, pepper and mash it using a fork until well mashed.

3) Shape mashed potatoes using sushi mould or by hand into 12 blocks and place it onto baking dish with a slice of salmon on top.

4) Combined Campbell's Cream of Mushroom with water to dilute the mixture. Spoon some mixture evenly on top of the salmon sushi before pouring the rest into the baking dish.

5) Scatter some shredded cheese on top of the salmon and bake in a toaster oven for 3 - 5 minutes till cheese melt and slightly golden in colour.

6) Serve immediately with some chopped parsley and Japanese chili powder.