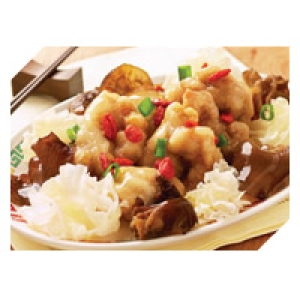 Product(s) Used for this Recipe
Black White Fungus With Chicken(Daily Dish)
黑白木耳鸡(家常菜肴)

Ingredients
(A):
250g Chicken Leg(without skin & bone)
TBS Ginger Juice
1/4 tsp Sugar
A Dash of Pepper
Some Sweet Potato Starch for coating Chicken
Oil for deep frying

(B):
6g Dried small Black Fungus
8g Dried White Fungus(To soften both Fungus in water and remove hard steam , Tear to smaller pieces)
1 TBS Wolfberry Seeds
3 cups*SWANSON 97% Fat Free Clear Chicken Broth
1/2 tsp Sugar
1/2 TBS Hua Teow Wine
1/2 tsp Seasame Oil

材料:

(A):
-250克鸡腿(去皮,去骨)
-1汤匙姜汁
-1/4茶匙糖
-少许胡椒粉
-适量炸油

(B):
-6克干小黑云耳
-8克干雪耳
(全泡水至软,去, 撕小块)
-1汤匙苟子
-3杯*史云生清鸡汤

(C)做水晶汁用:
-先调好1汤匙马铃薯和3/4杯*史云生清鸡汤
-1/2茶匙糖
-1/2茶匙雕酒
-1/2茶匙麻油

Cooking Detail

Serving
:
For 5-6 person,recommended to be served with rice
5人份 , 菜肴配白饭


Methods
1.Cut Chicken to 2 inchx1inch pieces.Marinate with Ginger Juice , Salt, Sugar and a dash of Pepper From (A) ingredients

2.Coat Chicken with Sweet Potato Starch and deep fry in hot oil untill golden brown.Dish out and absorb excess oil from Chicken with kitchen paper.

3.In a non-stick work, bring 3 cups *SWANSON 97% Fat Free Clear Chicken Brotho a rapid boil.Add in both kinds of Fungus and cook in the stock for 3 minute .Dish out leave a side.

4.Add Wolfberry Seeds to scald in boiling *SWANSON 97% Fat Free Clear Chicken Brothfor 2 minutes.Dish out.

5.Arrange Chicken in the centre of a plate , surround with Black & White Fungus and scatter Wolfberries over Chicken.

6.To prepare Crystal Sauce:Dilute 1TBS Potato Starch in 3/4 cup Water.Bring this mixture to boil over medium low fire , stirring always .Add in 1/2 tsp Sugar , 1/2 TBS Hua Teow Wine and 1/2 tsp Sesame Oil.When the right consistency is reached, pour over Chicken and Fungus.Ready to serve.

做法:
1.鸡腿肉切成2寸X1寸块.用(A)料之姜汁,盐,糖和少许胡椒粉腌鸡.
2.先把鸡肉沾上蕃署粉才放进油至金黄,离锅滴干油份,放在厨房
用纸上把油份吸干.
3.把3杯*史云生清鸡汤放进不黏低中烧开,加入黑木耳烫3分钟至入 味,捞出备用.
4.加入苟子在鸡汤里烫2分钟至入味,捞出备用.
5.把炸好的鸡肉排在盘中,哦旁边用黑白木耳围起,苟子撒在鸡上.
6.现煮水晶汁,把调好马铃薯粉浆用中火煮开,不停的搅动,加入1/2茶匙茶匙糖,1/2汤匙花河和1/2茶匙雕酒麻油.把做好的水晶汁倒在黑白木耳即可上桌.