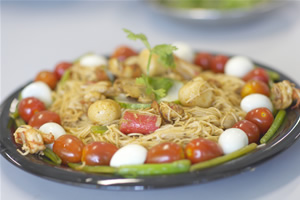 Product(s) Used for this Recipe
Cheesy Mushroom Noodles

Ingredients
1/2 can Prego Cheese & Herbs Pasta Sauce 290g
200g egg noodles, boiled and drained
4 canned small baby corns, halved
100g button mushrooms, halved, blanched
50g crab sticks, sliced
6 fishballs, boiled, halved
6 medium prawns, shelled and deveined
100g choy sum, separate stems and leaves, cut into small stalks
1 clove garlic, minced
2 tbsp olive oil
1/2 tbsp chilli paste

Seasoning:
1 tsp light soy sauce
1/4 tsp pepper
Salt, season to taste

Garnish:
1/2 cucumber, sliced
5 cherry tomatoes, halved
10 quail eggs, boiled, shelled, halved
1 sprig coriander leaf

Cooking Detail
Servings: 5
Preparation & cooking time: 35 minutes

Nutritional Value Per Serve
Energy: 310 Kcal
Carbohydrate: 36 g
Protein: 13 g
Fat: 13 g
Saturated Fat: 2 g
Cholesterol: 198 mg
Dietary Fibre: 3.1 g
Sodium: 423 mg

Methods
1. Heat olive oil in a frying pan, add garlic and chilli paste and fry until fragrant.
2. Add in prawns, crab stick and stems of choy sum and fry for 1 minute.
3. Add in fishballs, mushrooms and choy sum leaves and stir fry for another 5 minutes.
4. Season with pepper, light soy sauce and salt.
5. Add in egg noodles and Prego Cheese & Herbs Sauce and mix well.
6. Remove and garnish with cucumber, tomatoes, quail eggs and coriander leaf.
7. Serve hot.