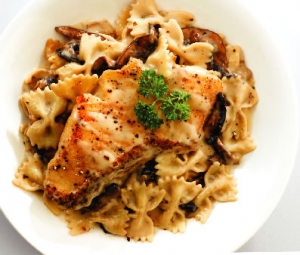 Product(s) Used for this Recipe
Peppered Cod Alfredo

Ingredients
130g Farfalle pasta,
2 cod fillets,
25g butter,
1 teaspoon freshly ground black pepper,
2 Portobello mushrooms (sliced), 1 can Prego Alfredo Portobello pasta sauce,
and chopped fresh English parsley to garnish.

Methods
1. Cook the Farfalle according to packet instructions.
2. Melt butter in pan and brush some of the melted butter onto the fish.
3. Smear the fish on both sides with the black pepper.
4. Add the fish to the pan and fry it until it is cooked thoroughly (about 5 minutes on each side).
5. Remove the fish from the pan and keep warm. In the same pan, add Prego Alfredo Portobello pasta sauce and bring to a simmer.
6. Add the mushrooms and cook until they are tender. Reserve 1/2 cup of the sauce.
7. Toss the Farfalle into the remaining sauce until it is well coated.

To serve: Divide the pasta into two portions. Top each portion with a piece of fish. Spoon reserved sauce onto the fish and garnish with parsley.