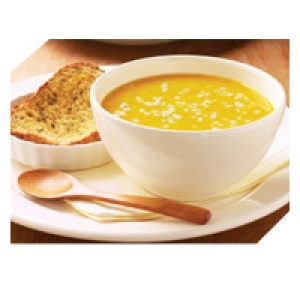 Product(s) Used for this Recipe
Pumpkin Barley Soup (soup)
南瓜意米浓汤(汤类)

Ingredients
(A):
1/2 cup Barley
1 Litre *SWANSON 97% Fat Free Clear Chicken Broth
1/2 Litre Water

(B):
500g Pumpkin without skin (cut to dices)
1 Bay Leaf

材料:

(A):
-1/2 杯米
-1公升*史云生清鸡汤
-1/2公升水

(B):
-500克去皮南瓜皮(切)
-一片月叶

Cooking Detail

Serving
:
For 5-6 person, soup
5人份,汤类


Methods
1.Bring (A) to a rapid boil.Turn fire to low and simmer for 15 minutes.

2.Add Pumpkin and Bay Leaf to step (1).Bring to a rapid boil.Lower the fire simmer for a futher 15 minutes.

3.Scoop up Barley and Pumpkin , leave 1 cup of cooked Barley to use as garnishing

4.Discard Bay Leaf.Puree Barley and Pumpkin with soup in a blender.Bring the pureed soup to a boil again before serving.

5.To serve, fill each individual soup bowl with Pumpkin Barley Soup, ,garnish with 1 TBS cooked Barley.You may like to serve this soup with a slice of toasted wholemeal bread spread with some garlic butter.

做法:
1.把(A)煮沸.转小火焖煮15分钟.
2.把南瓜和月桂叶加入(1)中,用大火煮沸,转小火焖煮15分钟.
3.把意米和南瓜舀出,留一杯米做装饰用.去掉月桂叶,把一意米和南瓜及汤用电动搅拌成糊,再把糊回锅煮开.
4.把南瓜意米浓汤盛入碗中,每人一份,用一汤匙意米装饰.
5.可配一块用蒜泥牛油烤香的全麦面包上桌.