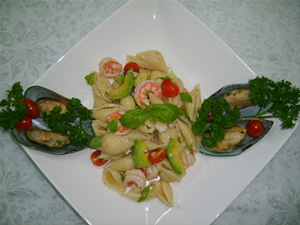 Product(s) Used for this Recipe
Pasta de Sea Food Singapore

Ingredients
150g giant pasta shells, boiled and drained
3/4 can Prego Cheese & Herbs Pasta Sauce 290g
4 mussels, boiled
12 prawns, shelled and deveined, boiled
1/2 avocado, skinned, sliced
2 cloves garlic, chopped
1 tbsp olive oil

Seasoning:
Salt, season to taste

Garnish:
4 cherry tomatoes, halved
1 sprig basil leaf

Cooking Detail
Servings: 2
Preparation & cooking time: 40 minutes

Nutritional Value Per Serve
Energy: 635 Kcal
Carbohydrate: 73 g
Protein: 27 g
Fat: 26 g
Saturated Fat: 2.4 g
Cholesterol: mg
Dietary Fibre: 5.8 g
Sodium: 477 mg

Methods
1. Heat olive oil in a frying pan and fry garlic until fragrant.
2. Add in mussels, prawns and avocado and stir fry for 3 minutes.
3. Add in pasta, Prego Cheese and Herbs Sauce and mix with other cooked ingredients evenly.
4. Season with salt.
5. Remove from heat, garnish with cherry tomatoes and basil leaf.
6. Serve hot.