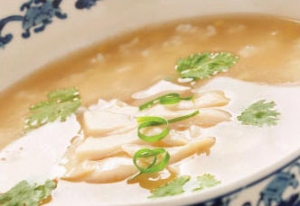 Product(s) Used for this Recipe
Topshell Abalone Porridge

Ingredients
a) 1/2 cup Short Grain Rice, 15g white part Spring Onion (chopped), 1 box Swanson Clear Chicken Broth & 1 cup water, 1 Can Topshell of Abalone
b) For garnishing: Some golden Flaskes, Green Part Spring Onion (chopped), Some Corriander Leaves (chopped), A few drops of Sesame Oil, a dash of Pepper and 1 tsp Light Soya Sauce


Cooking Detail
For 5 servings

Methods
1) Rinse Rice and put into a pressure cooker together with 15g of white part of Spring Onion. Fill in 1 box Swanson Clear Chicken Broth & 1 cup Water. Close the lid and over strong fire to a boil

2) When it comes to a boil, pressure is built up and you can hear hissing sound. At this point lower heat and continue counting for 10 minutes. Off fire.

3) Release the pressure from the cooker completely before you open up the lid.

4) Cut Topshell or Abalone in thin slices first then cut to strip. Mix into the porridge to be heated through.

5) Transfer TOPSHELL/ABALONE PORRIDGE into a big Soup Bowl. Garnish with (b) and ready to serve.