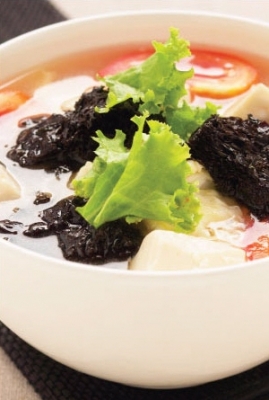 Product(s) Used for this Recipe
Tomato, Black Seaweed, Egg Flower Soup

Ingredients
1 tsp Sesame Oil, 1/2 tsp minced Garlic, 10g White Silver Baits,
1 box Chinese Tofu, 2 Tomatoes (180g),
1 box Swanson Clear Chicken Broth (1 litre sized), 1 cup Water, 1 Egg White,
1/2 piece round Chinese Seaweed, 2 Lettuce Leaves, a dash of Pepper


Cooking Detail
For 6 servings

Methods
1) Rinse White Silver Baits and drain.

2) In a pot heat up 1 tsp Sesame Oil, drop in 1/2 tsp minced Garlic to fragrant. Add in White Silver Baits and saute for 1 minute.

3) Pour in 1 box Swanson Chicken Broth and 1 cup Water. Cut Chinese Tofu to cubes and throw into the soup. Cover and bring to a rapid boil.

4) Cut tomatoes to wedges and drop into the soup to heat through.

5) Use a pair of scissor to cut Chinese Seaweed to 1 inch x 2 inch pieces. Drop into the boiling soup, and in 1 Egg White. As soon as the Egg White is set. Off the heat.

6) Tear the Lettuce Leaves to small pieces and add in to the soup. Sprinkle in a dash of Pepper and ready to serve the soup piping hot.