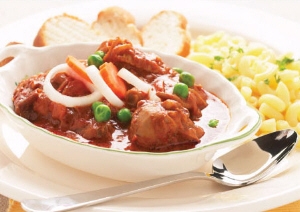 Product(s) Used for this Recipe
Mexican Tomato Saucy Chicken

Ingredients
a) Half a Chicken (about 600g, cut to pieces about 1 inch x 2 inches), 2 tsp Salt, 1 can (411g sized) Swanson Clear Chicken Broth, 1/8 tsp Cinnamon Powder, 1 cup frozen Green Peas (thawed before using), 150g Onion shreds, 20g Butter, 1 stalk Celery (roughly chopped), 1 carrot (roll-cut), 150g Tomato (cut to wedges), A little chopped Parsley for garnishing.

b) To make Homemade Mexican Sauce:
200g tomato Puree, 3 TBS smooth type of Peanut Butter, 2 TBS Brown Sugar, 1 TBS Nescafe, 1 TBS Chillie Powder.

c) Serve Mexican tomato Saucy Chicken with:
Either some boiled Macaroni tossed with a little Butter OR Some toasted French Bread.


Cooking Detail
For 6 servings

Methods
1) Scald Chicken in rapidly boiling water for 5 minutes. Remove from Water. Rinse & drain. Sprinkle 2 tsp Salt over Chicken to season.

2) In a pot melt 20g Butter, add in 150g Onion shreds to saute till aromatic. Add (b) Homemade Mexican Sauce and por in 1 can Swanson Clear Chicken Broth and bring to a boil.

3) Add in marinated Chicken, Celery, Carrot and Tomato and 1/8 tsp Cinnamon Powder, bring to a boil and turn fire low. Simmer for 15 minutes till Chicken is thoroughtly cooked.

4) Adjust salt level if necessary. Lastly add in Green Peas to heat through. Serve MEXICAN TOMATO CHICKEN on a bed of Boiled Macaroni tossed with a little Butter. It can also be served with some tosted French Bread.

5) For garnishing, sprinkle a little chopped Parsley over.