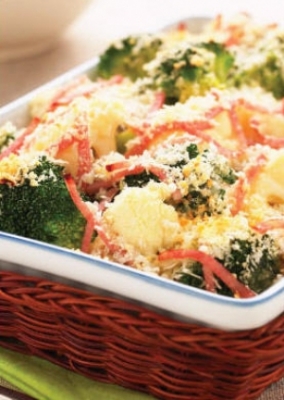 Product(s) Used for this Recipe
Baked Cheesy Cauliflowers & Broccoli with Ham

Ingredients
a) 300g Broccoli and 300g Cauliflowers (cut to small florets), 1 can Straw Mushroom (drain water & cut each piece to 2 pieces), 4 slices Picnic Ham (cut to strips)

b) To make Cheesy White Sauce:
800ml Swanson Clear Chicken Broth, 8 TBS Plain Flour, 1 TBS mined Garlic, 20g Butter, 5 TBS Milk powder, 1 tsp Sugar, 1/4 tsp Salt, a dash of Pepper

c) For topping: 3 TBS Breadcrumbs, 2 TBS Parmesan Cheese Powder (Mix together)

Cooking Detail
For 6 servings

Methods
1) Preheat oven to 200 degree Celsius. Grease a Pyrex dish with a little butter.

2) Cut broccoli and cauliflowers into small florets, soak in a basin of water added with a pinch of salt. After 5 minutes, rinse & drain.

3) To make Cheesy White Sauce: In a non sticky fry pan, heat 20g Butter, add i1 TBS minced garlic and saute till fragrant. Lower the heat and sprinkle in 8 TBS Plain Flour, little by little each time and alternately add in 800ml Swanson Chicken Broth a little at a time. Use hand whisk to stir well untill there are no lump. Add milk powder, sugar, salt and a dash of pepper. Mix well.

4) Add in Staw mushroom and ham strips, continue to cook till the mixture get thickened.

5) Arrange broccoli and cauliflowers in the Pyrex dish and pour over the cheesy white sauces over. Sprinkle with the mixture of breadcrumbs and Parmesan cheese powder from (c).

6) Bake at 200 degree Celsius for about 25-30 minutes till the surface becomes golden brown. Remove from oven and serve.