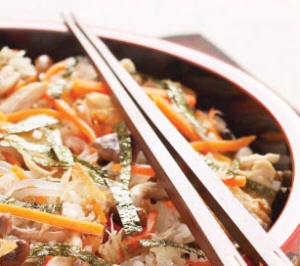 Product(s) Used for this Recipe
Shirataki One Pot Rice

Ingredients
A) 3 cup Long Grain Rice, 200g Chicken Thigh (cut to bite-sized) Season Chicken with 1/2 tsp Salt, a dash of Pepper, 1 tsp Hua Teow Wine, 150g Carrot (cut to match sticks)
5 Taupok (rinse with hot water to remove old oil. Press dry & cut to shreds)
60g Goboh (Burdock Root) cut to flakes (soak in a basin of water with 1 tsp Vinegar added. Rinse before using).
1 packet Shirataki (250g, rinse with hot boiling water, cut to 5 inches length)
1 packet Shimeji Mushrooms (150g, devide to small bunches)
3 cups Swanson Clear Chicken Broth (can use Can or Carton)
1/2 tsp Salt

B) for Garnishing:
1 packet seasoned Nori (use scissors to cut to strips)

tsp = teaspoon, TBS = Tablespoon


Cooking Detail
For 6-8 servings

Methods
1) Rinse Rice and set aside for 30 minutes.

2) Transfer rice to an electric rice cooker. Add in 3 cups Swanson Clear Chicken Broth, 1/2 tsp Salt & stir well.

3) Add in the marinated Chicken to make one layer. On top of it scatter in Carrot, Taupok, Goboh flakes, Shirataki and Shimeji Mushrooms. Switch on the switch to cook rice.

4) When the button of the rice cooker jumps from "COOK" to "WARM" position, leave it for 5 minutes and toss rice with a pair of long chopsticks. Leave it for a further 5-10 minutes and ready to transfer out to a serving platter.

5) Garnish Rice with Nori strip. Ready to serve.