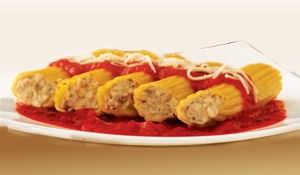 Product(s) Used for this Recipe
Joy-filled Christmas Cannelloni

Ingredients
Filling:
450g minced turkey breast meat
2 large onions, chopped
1 teaspoon Italian Seasoning
1/4 teaspoon Ground Pepper
2/3 can Prego Cheese & Herbs pasta sauce

1 bottle (397g) Prego Mushroom pasta sauce
1 box Cannelloni Tubes
225g shredded Mozzarella cheese


Methods
1) Make filling. Place minced turkey breast in a microwave-safe plate, cover with waxed paper and cook on high for 3 minutes. Stir thoroughly to break up meat. Add chopped onions and Prego Cheese & Herbs pasta sauce, stir, re-cover and microwave for 2 more minutes. Drain well and stir in Italian seasoning and pepper.

2) Fill cannelloni tubes with filling.

3) In a greased baking dish, cover bottom of dish with Prego Mushroom pasta sauce. Place filled cannelloni tubes side by side in dish.

4) Cover cannelloni tubes with remaining pasta sauce, top with mozzarella cheese. Bake in oven at 200 degrees for 20 minutes. Remove from oven, let stand for 5 minutes then serve.