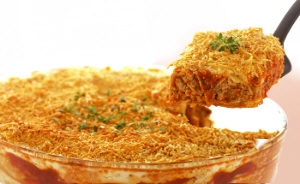 Product(s) Used for this Recipe
Cheery Christmas Cannelloni

Ingredients
White Sauce:
100g butter
1 onion, chopped
3 cloves garlic, minced
50g plain flour
700ml full-cream milk, warmed

Filling:
500g minced pork
150g smoked turkey breast, chopped
2 tbsp finely chopped fresh sage leaves
1 tbsp finely chopped fresh thyme leaves
1 tsp freshly ground black pepper
3/4 tsp salt, or to taste
300g lasagne pasta sheets (about 12-14 sheets)
1 large bottle (737g) Prego Mushroom Pasta Sauce
75g breadcrumbs
80g finely grated Parmesan Cheese
Fresh thyme for garnish, if desired


Cooking Detail
Preparation time : 45 minutes
Cooking time : 45 minutes
Serves : 6-8

Methods
1) Make white sauce. Melt butter in a pot over medium heat. Add onion and garlic and fry gently for 2-3 minutes until softened. Spoon onion into a bowl and set aside, leaving butter in pot. Stir flour into butter and cook for 2 minutes, stirring. Add milk very gradually, stirring constantly: sauce will thicken, then thin out again. Simmer, stirring constantly, for 3-4 minutes, until creamy. Set sauce aside.

2) Preheat oven to 190 degrees Celsius. Mix all filling ingredients together with reserved onion.

3) Blanch lasagne sheet in boiling water, in batches, until just pliable, 2-3 minutes per batch. Drain well. Lay each sheet out flat and spread evenly with about 2 tablespoons filling, then roll it up like a swiss roll.

4) Spread 1/4 of the white sauce in a large baking dish. Lay cannelloni rolls seam side down in dish, in one layer. Pour Prego sauce evenly over rolls. Pour remaining white sauce evenly over pasta sauce. Sprinkle over breadcrumbs and cheese. Bake for 35-40 minutes until golden on top. Garnish with fresh thyme if desired and serve hot.